5 Steps to Talk to Anyone with Ease and Confidence
Published January 29, 2021
There's a science behind having a good conversation.
And the good news is it can be used in any situation: professional networking events, business meetings, social events—even meeting your in-laws for the first time. The science is the same.
Step #1: Intention
The best conversationalists always set the intention for the conversation before they start. So, on your way to an event ask yourself, "What do I want to get out of this event or my interaction with this person?" It could be new business, getting to know someone or even just having a good time. Just setting that intention ahead of time helps you guide your conversation.
Step #2: Approach
When you think about conversation, you usually think about the first line. But research shows your first impression happens before the conversation starts—when you first see someone. The best conversationalists start their conversation on the approach. Think about your body language. You want your hands to be visible and your shoulders down and back. And you want to smile. When you smile at someone, it warms them up. Your smile is your opening line.
Step #3: Opener
There was an extensive research experiment that looked at almost every conversation starter possible—and there was one that far outweighed the rest. It sounds so simple, "Hello. How are you? "If you think about it, you really don't want to say anything too intense when you first start. So, you start with the smile and say, "Hey. How are you." It's just a nice, natural start.
Step #4: Sparks
After the opener, the best conversationalists look for conversation sparks. This is the difference between a dazzling conversation and a "meh" conversation. You want to be curious. Across cultures, across genders and across races, the universal non-verbal curiosity cue is the eyebrow raise. Anytime anyone says something interesting, we raise our eyebrows. So, you are looking for topics, conversations and stories that cause the other person to raise their eyebrows.
Look for mutual likes. Do you like the same kinds of restaurants, vacations or sports? When someone responds with an eyebrow raise, you know you've hit a spark. Then you can go down that rabbit hole in the conversation.
Step #5: Exits
We often don't think about how to end a conversation, but actually your last impression is just as important as your first impression. So, if you want to end a conversation, try the future-mention. You might ask what the other person is doing next weekend or later today. The future-mention subtly shifts our focus from the present to the future. Once they share their plans, it's your cue to end the conversation by saying, "It was great speaking with you today and I wish you the best on (whatever they are doing that weekend)."
Want to hear more? Watch the full video to see Vanessa's advice on:
How your body language signals whether you are approachable at a party
What checking your cell phone communicates in a social situation
Where the best place is to stand at a networking event
This video originally appeared on Vanessa Van Edwards' YouTube Channel.
Never miss an inspiring leadership insight or the latest leadership news!
About the Author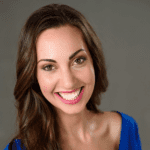 Lead Behavioral Investigator
Science of People
Vanessa Van Edwards is lead investigator at the Science of People— a human behavior research lab, whose goal is to use the latest scientific research and trends to help leaders master their people skills. Her innovative work has been featured on CNN, NPR, Fast Company and Entrepreneur Magazine and she regularly speaks to innovative companies including Google, Facebook, Comcast, Microsoft and Penguin Random-House. Van Edwards has developed a science-based framework for understanding different personalities to improve our EQ and help us communicate with colleagues, clients and customers and is the bestselling author of Captivate: The Science of Succeeding with People.
Years at GLS 2020